Sonjj
Updated: 27 May 2023
En
Bulk Gmail account management solution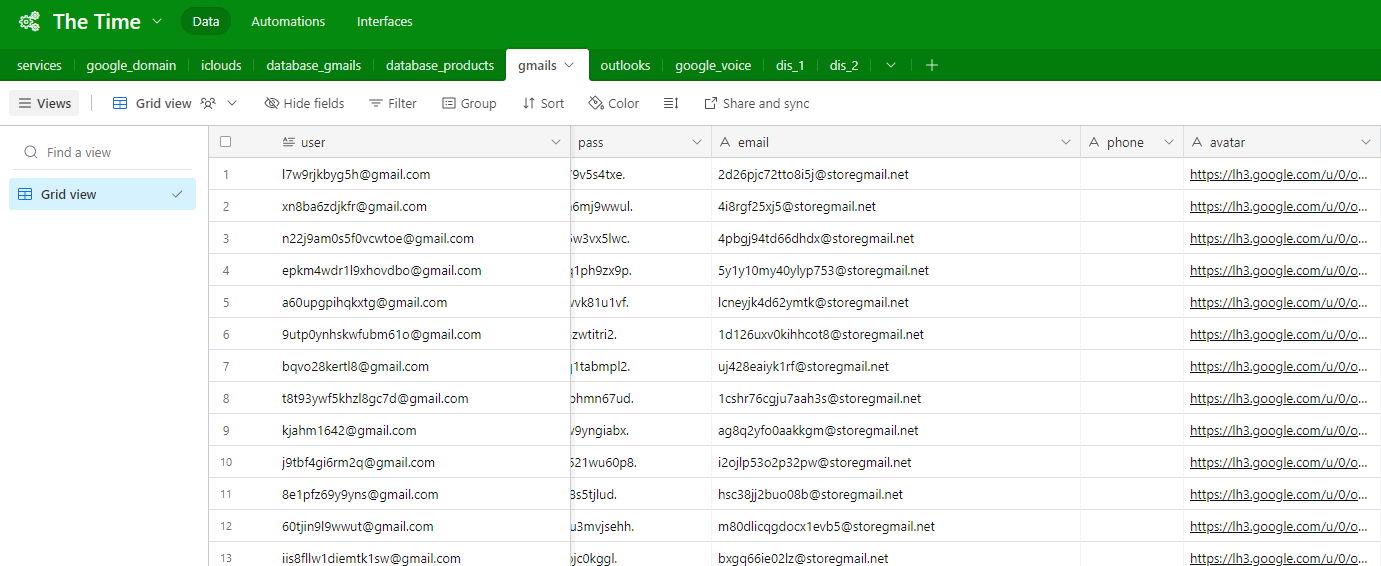 You have a list of Gmail accounts, and you are having a headache about whether those accounts are active or not? request confirmation phone number? or you want to change your password and bulk recovery email address, this is the place to provide the tool you need. In this article, we will show you how to use that tool to solve all your problems.
I. How to install?
This is an extension that runs on Chrome or Edge browser platforms, so you must install one of the two browsers above. Running the extension will delete all browser cookies, so you must create separate profile for this extension to work. This helps avoid affecting the account or data you are using.
After you have prepared or have the above conditions available, next, download the extension at the: extension_manage_gmail_1.0.3.rar and watch a short video with detailed installation instructions without using Chrome's webstore here.
II. Basic features of Manage Gmail.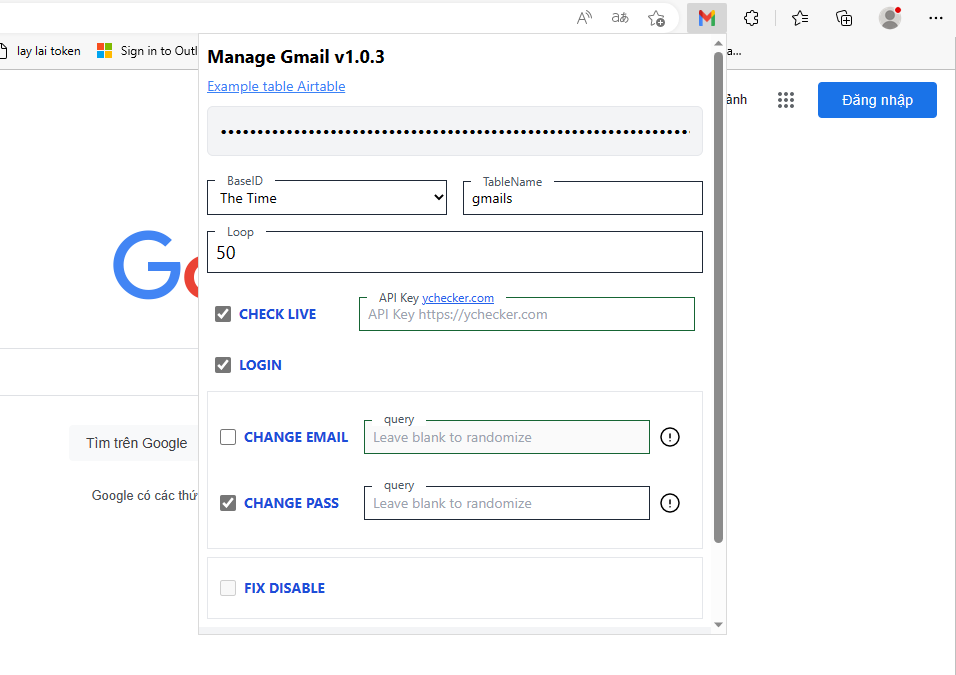 The five ticks in the extension interface are similar to the five features below. When you tick any feature, the extension will work and do the task according to that feature or will do all if you tick all of them. Our extension assignment will take each Gmail account on your list and do all the features you choose before moving on to be the next Gmail account.
Check verify or disable (optional)
Bulk login (optional)
Change passwords in bulk (requires ticking in the login box)
Change the recovery email in bulk (requires ticking the login box)
Complain about disabled email addresses (requires ticking the login box)
III. Instructions for using Manage Gmail.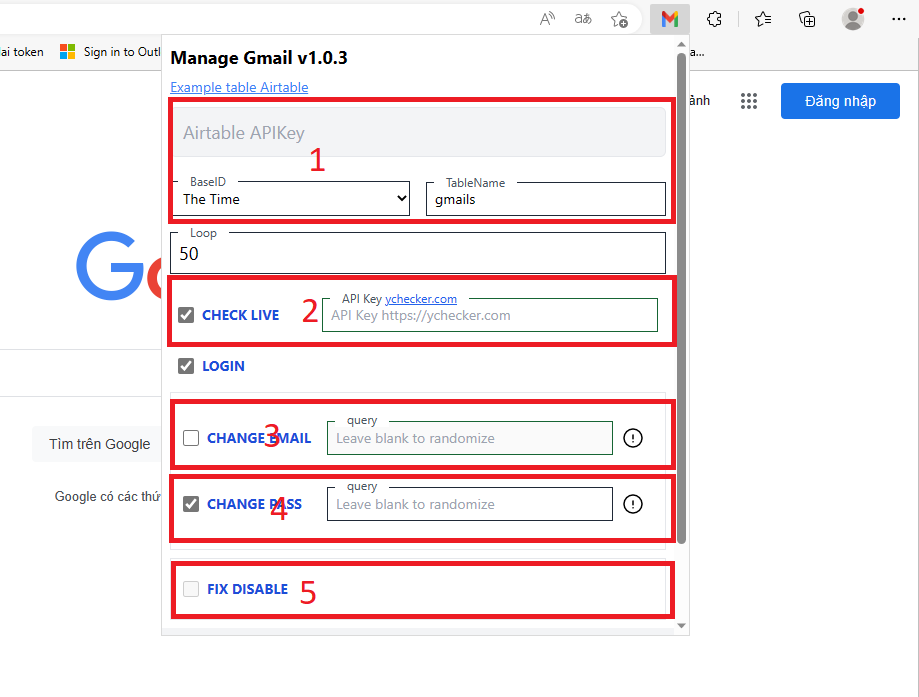 Area 1: To be able to run the extension first, you must have an Airtable account. Airtable is simply an Excel-like storage engine. The extension will link with Airtable to perform all the features in section II. So if you don't have an Airtable account you need to register now (this is required). After you register, watch this short video to get the API key easily.
Area 2: This is a feature to check if your Gmail address is verify phone or disable without having to log in, this helps the extension work faster and save time. To use this feature you need to purchase the API at https://ychecker.com/. You can skip it if you don't want to use it.
Area 3: This area will change the recovery email address, the easiest way to use it is to leave it blank. The extension will automatically generate a random email address for you from the Smailpro.com temporary email address system. If you don't want to use a temporary email address, you can enter an email address you want (eg

[email protected]

), or you can enter a domain (eg example.com) then the extension will change the current domain of your recovery email address (e.g.

[email protected]

=>

[email protected]

). In case your recovery email address is not available, the extension will automatically get the Gmail username + with the domain name you enter (eg

[email protected]

=>

[email protected]

) .
Area 4: This area will have the task of changing the password, still the simplest way to use it is to tick the CHANGE PASS box and then leave the query field blank, the extension will automatically change the password to a random password. any. You can also enter the specific password you want to change (for example, Hcjh1234). Or more advanced is to add a few characters in the current password (for example, the current password is "123456" you enter +abc, your new password will be changed to: "123456abc").
After you have obtained the API key and have understood how the extension works through each of the above area, next you need to associate the API key with the extension and prepare a list of Gmail accounts for the extension to work. Watch the next video to understand how to customize the tool before it runs: https://www.youtube.com/shorts/2mUmEQbJ8D8. Here is a demo video in action: https://www.youtube.com/shorts/Ul8uau2NQN8. I have x3 working speed in this demo video.
IV. Notes on use.

Extension will take turns from top to bottom with Gmail addresses that have 2 columns "note" and "status" empty as shown. This means that if you don't want to run any Gmail addresses then type any character in the "note" field or select "status" in the Airtable.
When the extension is running, do not pull down the browser window or hide it. This will cause a login error.
The "loop" section of the extension is simply the input the number of times you want to run.
It is best for each IP address that you should not run more than 50 accounts, because the current extension does not support changing IP addresses or useragent. The way to change the IP I usually use is to reset the wifi modem.
Regarding security, the extension does not take any of your information, so you can rest assured about this issue. This will be the entire source code I wrote: https://github.com/mr-sonj/manage_gmail you can check and use the code if you want, please keep the copyright part, thanks.
This is the extension I use every day and will continue to update it continuously. Hope it helps many people.
V. Finally
The tool that we provide to you, with the hope that it will help you in part to be able to manage your Gmail accounts in the fastest, most effective and most time-saving way. Instead of having to spend time and effort to do those tedious things, the features in our tool will do it for you, all you need to do is read and follow the instructions that I have set out and launch it. If this post was helpful, please share and recommend to help me be more motivated and bring more better products!